Awards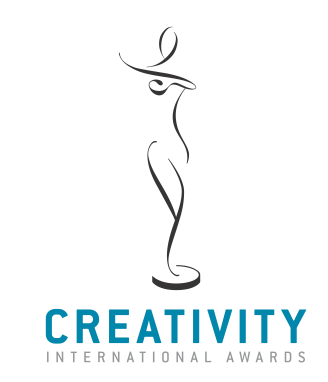 Creativity International Awards
Silver Winner
Getac Enterprise Brochure
Bronze Award
JDA Pies Gone Wild
---


Graphic Design USA
Canon Maxify Brochure
JDA Pies Gone Wild
---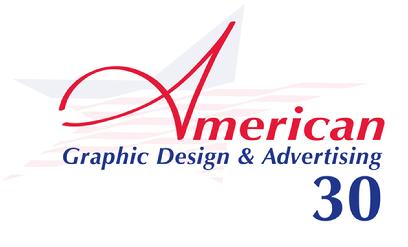 American Graphic Design and Advertising 30
Canon Maxify Brochure
JDA Pies Gone Wild
---
Canon Back to School Push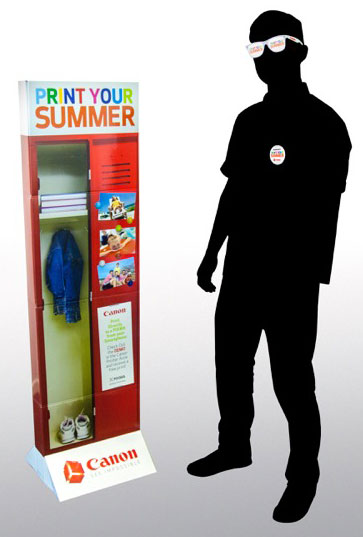 Click for larger view
With summer coming to an end, Canon wanted to encourage students and parents to print their best summer memories. Rather than just posting pictures to Instagram or Facebook, post them the old fashioned way, to the inside of your locker. In many ways, this keeps the memory alive far longer than it stays in your social media feed.
This in-store demo stand was used at Best Buy by Canon sales reps as a way to capture shoppers attention and show them how they can use their mobile device to print out their summer memories. The use of a school locker illustrated the perfect way to keep those memories front and center when going back to the routine of classes and homework. Half circle cuts were made in the display so that actual photos could be inserted.
In addition to the display, sunglasses and a button that said "Print Your Summer" were distributed in the display kit so the sales reps could wear them in-store.
Turning Digital Content into Printed Collateral
Over the years, JDA has created online video content for the Toshiba Telecommunications corporate website, which provides overviews of their phone systems and applications. We have been asked to pare down the video content so that it is easier to digest in smaller segments. Our latest video featured the Unified Communication application called UCedge. This application allows the customers to use their smart phone or tablet as an extension of their Toshiba phone system.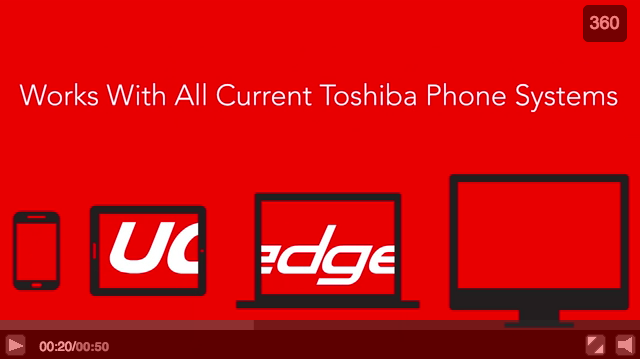 Click to watch video

In addition, Toshiba wanted to make it easier for their dealers to place this video content on their own website, so we used the SYQNY technology that Toshiba subscribes to. SYNQY allows dealers to share branded content from Toshiba by simply placing a line of code on their website. If Toshiba makes any updates to the video, the SYNQY is automatically updated.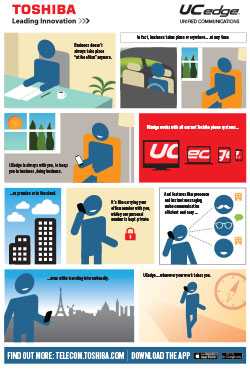 Click for larger view
We realized that Toshiba could get even more mileage from this digital content by using the custom illustrations for a poster that could be showcased in the dealer's showrooms. The posters were created two sided and focused on different aspects of the UCedge application.
The Marketing Manager for the Toshiba Telecommunication Division said this about our efforts to help market this technology: "JDA enhanced the UCedge message for us by creating a true integrated marketing campaign—online video, brochure & datasheet, web content pages, SYNQY and poster. This campaign provided Dealers and End Users with the UCedge marketing message with creative flair. The JDA team continues to be a valuable asset to the Toshiba Telecommunication Systems Divisions marketing effort." Annita Avila-Sharpe, Marketing Manager