Canon Supports the Brick and Mortar Retailers
With so many people buying product on-line, why bother going to a "brick and mortar" store? It is so you can interact with the product, and experience how it works. The retail store is the place to really learn about a product and good POP helps to close a sale. Plus, the customer has instant gratification because they can take the product home right away. This is an experience you can't get on-line.
JDA designed in-store displays and collateral to make the retail experience more beneficial to the customer and to educate them on new features of the printer. If you haven't purchased a printer in the last five years you would be surprised by the new and creative features that are offered.

For example, Full HD Movie print allows you to freeze on that one special frame from an HD movie, captured with a Canon digital SLR and Canon PowerShot camera, and print a photo. Canon showcased this feature in Walmart end aisle displays.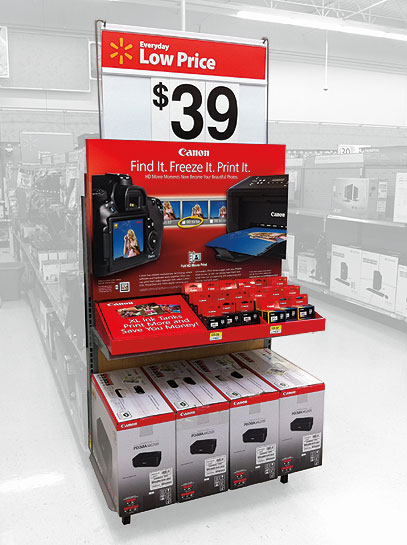 At Best Buy, Canon showcased the wireless printing features of their product. The goal was to show the devices you could use, how to select an image and then print it. This was all supported by a demonstration video. The graphics were clean and on a white background which complemented the overall Best Buy shopping experience.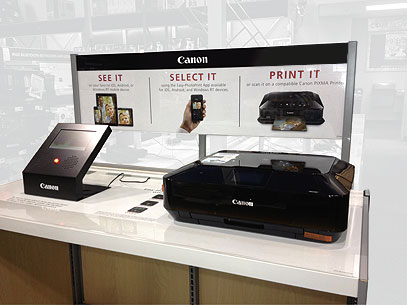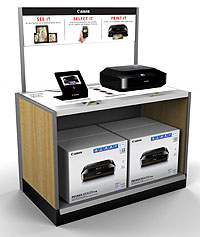 JDA worked in concert with Rapid Displays on both of these in-store executions. Rapid is one of the only manufacturers that offer a complete end-to-end solution from requirements to the final destination. Their execution and follow-through were awesome and we love working with them.
We also produce Canon branded material that can be used in many different retailers. Below are the traditional items that can be used on and around the printer.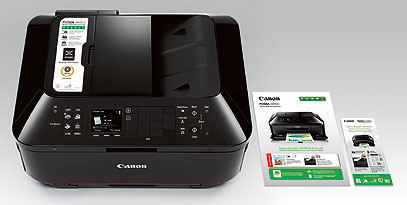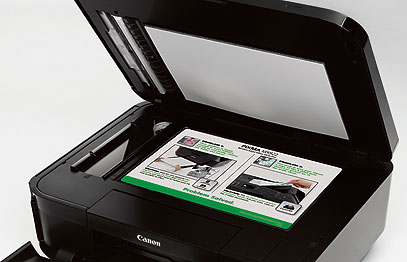 This material is meant to provide more in-depth information about each printer and highlight key features.
"Nice Package" and "Nice Rack"
Only at CES could we pass out these promotions. We received a great response and a couple of meetings!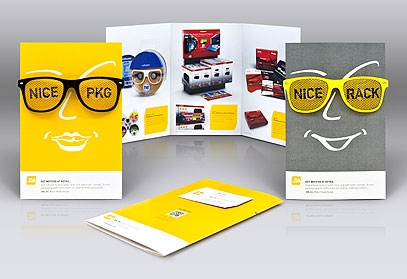 The Four Seasons of Serenity
Since our focus is on packaging and in-store merchandising, it is nice to work on a project for a local business and get creative. A local hairdresser, and friend, was moving locations and wanted to spruce up her identity. Stephanie Han, in our office, had fun creating a different mood for each of her business cards. We also created four large pictures that could be rotated with the different seasons in her salon.