Join Toshiba in the Clouds

As Toshiba prepared for the launch of their new VIPedge™, cloud-based telephone solution, they worked closely with JDA to develop the marketing collateral and product launch materials. Toshiba's telecom products are sold via Authorized Dealers, and therefore, all marketing materials for their products must be prepared for Dealers as well as the end-customers that purchase and use the Toshiba IP telephone systems. This proved to be a challenge for a couple of reasons. Toshiba's established dealer base wasn't accustomed to selling a monthly service—just hardware. In addition, there were several other companies that had launched similar services, but none have Toshiba's brand name recognition or reputation.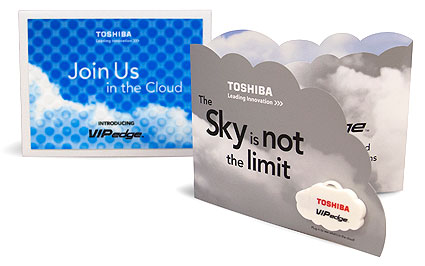 JDA and Toshiba developed a comprehensive online and offline communication strategy. First, we mailed a launch kit with a brochure directed toward the dealers outlining new ways to sell this service to their new and existing customer base. To catch the dealer's eye, the label on the launch envelope utilized a 3D printing technique on plastic. Additional materials were included on a cloud shaped USB drive attached to the outside of the dealer brochure. This included a customer facing brochure, specification sheet, a PowerPoint sales presentation and an animated vignette that could be used as a sales tool in a meeting or on their web site.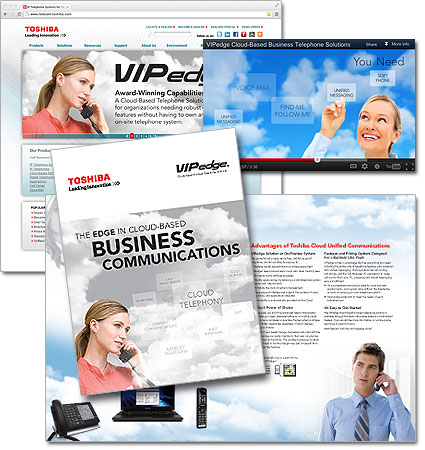 Toshiba also promoted the launch on its Facebook page, Twitter and YouTube: Click here to view the landing page
Soon after the launch, Nisha Sheth, the Marketing Manager received accolades from internal staff and the Authorized Dealers. One Dealer sent her an email saying, "I am a big fan of yours." Nisha continued to say: "As any manufacturer with an indirect sales channel can profess, when you catch the attention of a Dealer, you know you're doing something right. Toshiba appreciates how JDA can produce designs that help us meet our sales and marketing goals."
Avesence: Where Elegance Matters

JDA works with some pretty established and well known brands. But we always enjoy the challenge of building a brand from scratch which is what we were asked to do by Sunstream. Sunstream Pacific, LLC is a skincare manufacturer promoting the Avesence Brand. Avesence is a line of personal care products that will be manufactured in USA offering genuine quality performance using the finest ingredients and innovations at a reasonable price.
When Sunstream came to us they had very specific criteria:
Stand apart from the competition
Create buzz in the industry
Establish a brand personality
Must communicate it is better/different than what is currently on the market
In addition, they outlined their brand personality to be:
Sophisticated with a "very subtle, cute humor"
The company is caring and respectful
They stand behind their product
High Quality but not snobby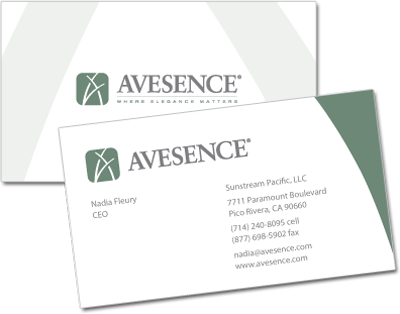 Currently JDA is designing the packaging for their skin care line of products. We have enjoyed a truly collaborative relationship and we look forward to the product launches.